Constant Pursuit Outfitters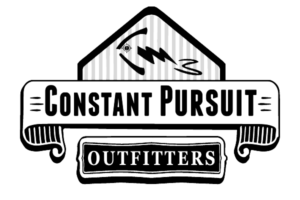 When I started my career as a professional fisherman, I wanted a better option than what was being produced on the market.  I found almost any jig would catch fish, but as a guide, I got tired of replacing my customer's bait after only a few fish.  More time changing baits equaled less time fishing, and less time fishing meant less fish in the boat.  So, I set out making my own plastics that were tough enough to meet Mother Nature's ever changing standards, while also effectively catching fish.
Working in the old Finny Tribe building in Gun Barrel City, I carved out a little space in an 6x8 foot closet, and went to work day and night pouring jigs by hand. I threw away my first 10,000-12,000 Thump Buddies because I cured them wrong.  This was heartbreaking to the man who made these all by hand and had invested a few thousand dollars in materials.  I was already too broke to drive to work, but I knew that I wouldn't have a second chance on the water or in the jig business if I didn't make them right the first time.  So I started over, cured them the right way, tested them in the waters of Cedar Creek, and in January of 2011, launched what was then Lights Out Tackle.
The fish and the fishermen helped me a lot in those early days, as we made our name on the water and in the industry.  Guiding full time at Cedar Creek allowed me to consistently test the effectiveness of our baits and design/develop new products and color schemes.  As the years went on we changed our name to Constant Pursuit Outfitters after a little tussle with a former NFL player.  We also launched the Thump Jumper and the Thump Chubby, both of which were used to meet certain conditions I was presented with while guiding.
I am by no means a self-made man.  I have had many blessings bestowed up me, and the relationships that I've developed in this industry have helped me make it through the good and the bad.  My baits got in the hands of some extremely accomplished fishermen, and doors were opened for me that I never thought were possible.  Jesus, Jay and Rhonda Reeves, Jana Shelton,
Greg and Samantha Boyle, Jerry Taylor, Kirk Grounds, Kyron Washington, my parents, all the guys at Cedar Creek, the Texas Fishing Forum, and countless others are owed a debt that I can't repay.  I wouldn't be where I am today if I were on my own, and I am extremely thankful to do what I love on a daily basis.
Break a Record,
Lane Palmer