Description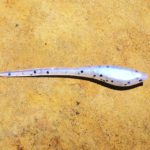 PLEASE NOTE: The Sausage Gravy pattern has so much UV enhancement in the recipe that we absolutely cannot capture the likeness of it on camera, especially on a white background (as used in all of our other product pictures).  This darker background represents the bait better.
The flagship bait of Constant Pursuit Outfitters, Thump Buddies were created by CPO owner and full-time fishing guide, Lane Palmer.  Every Thump Buddy is hand-checked for quality and doesn't leave the shop unless it passes our meticulous inspection.  All colors are crafted from strict recipes to ensure consistency.
We recommend rigging Thump Buddies with a #2 round (aberdeen) hook or #4 sickle.